Immersing yourself in French, whether it be through films or literature, is a wonderful and enjoyable way to keep French in your life outside of your French classes. French à la Carte provides its students with free access to the Library, which includes books, magazines and DVDs for you to enjoy and to help you learn and practise your French skills.
Students and members are welcome to borrow any items to take home with them or to read in our on-site Café.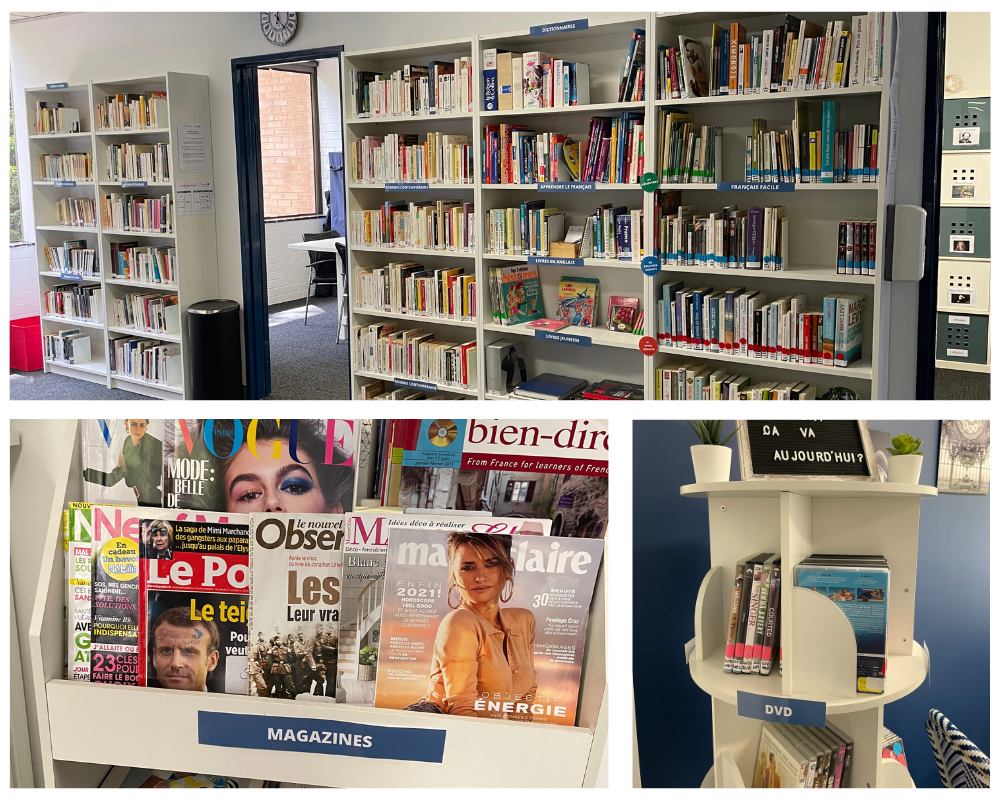 Language Learning Materials
A large selection of literature from French authors and foreign literature in French
Children books
Books about French culture in English & in French
A reference collection of grammar, conjugation and vocabulary books, dictionaries and French textbooks.
DVDs of French movies of all genres
French magazines

Some of our books are organised by learning level and marked with a coloured sticker, making it easier for intermediate students to find novels that are suitable for their level.
Location & Opening Hours
The French à la Carte library is located at 164A Mona Vale Rd, St Ives 2075 NSW.
The library is open from Monday to Friday during Term dates, from 9.30am to 4.30pm.
Loan Conditions
All French à la Carte students have free access to the library.
For non-students, a membership is necessary to borrow items.
Our Library is a self-serve library based on trust: members pick the items that they would like to borrow, take the library card off the item and put it in the box so that French à la Carte staff know what items have been borrowed. Returned items are to be placed in the return box to be disinfected, before they are returned to the shelves.
Every member can borrow up to 4 items for a period of 4 weeks, renewable once during the borrowing period.
Not a French à la Carte student ?
Everyone can become a member of the French à la Carte library. If you are not currently enrolled in a French course with us, you can purchase an annual Membership for $50, which will give you access to hundreds of French items and other benefits.
Donations
A donation box is at your disposal in our Library.
We accept any donation of books, magazines, DVDs in French or about French culture in good condition.
More information