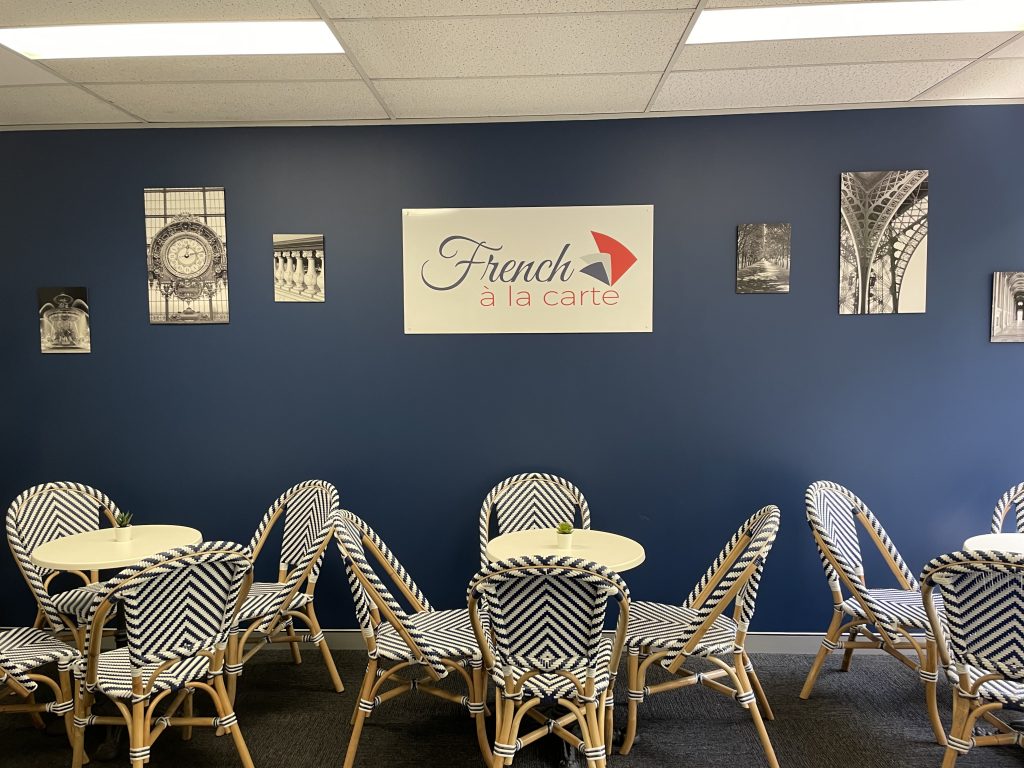 French à la Carte was formed in 2009 in St Ives on Sydney's North Shore. Throughout the years, the school expanded and more teachers joined the team, all native-French and trained to the French à la Carte unique teaching style.
Marion Kermann became the school director in 2020 and has dedicated herself fully to bringing more Frenchness to Sydney's North Shore since then. French à la Carte now has its own premises in St Ives, which allowed us to create a nice French atmosphere where students and members can come to have a cup of tea, borrow a book from our on-site library and attend their weekly lessons or cultural workshops.
In October 2020 French à la Carte opened a branch at Bayview GolfClub in the Northern Beaches, where we have been offering French classes for all levels on Mondays, Tuesdays and Wednesdays. The positive response and interest from the community has been overwhelming!
French à la Carte opened a third location in Rose Bay, at Woollahra Golf Club, in 2022. We look forward to show students from the Eastern Suburbs how wonderful our lessons are!
Marion's vision is that learning a language shouldn't be just a classroom experience, but a holistic journey where every opportunity to add a bit of French to everyone's life should be embraced. Whether it is through weekly language lessons, cultural workshops, all-in-French immersions or just around a cup of coffee, Marion wants French à la Carte members to feel as though they were in France every time when they walk in the school or in one of our partners' venues — restaurants, cafés, French shops or partner hotels.
La culture française est partout ! — French culture is everywhere! 
A language experience
We want to give our students a full French experience, which goes beyond the mastering of the language. Our school offers a range of activities that complement our Term lessons throughout the year: cultural workshops in French, events promoting French culture, French immersions in NSW and overseas, a library of French books, magazines and DVDs, French card games (tarot) sessions, and much more.
A social experience
While our primary purpose is to teach French and promote French culture, we want your French experience to be more than a series of lessons. That's why we made sure that our school in St Ives has a very welcoming atmosphere. We want you to feel at home, to give you the opportunity to catch up with your friends before or after your lesson. Our self-serve café and library are free to use for all of our students, with tea, coffee and biscuits available at any time. Everyone is welcome to sit down, grab a book or a magazine or have a chat while sipping a cup of tea!
Long-lasting friendships
When a students joins our school, they join a class and they usually stay with the same group and the same teacher for years. Real and long-lasting friendships have been created in our classrooms, making the learning experience very enjoyable. When you feel comfortable in a classroom, surrounded by classmates that are also your friends, and a teacher whom you know very well and who knows you just as well, each lesson becomes the moment of the week that you're really looking forward to!
A flexible teaching style
Our school is called French à la Carte for a reason: our lessons are tailored to our students, not the other way around. We don't work with a textbook nor structure our classes using a rigid curriculum following a pre-defined pace that each group must follow in order to graduate to the next level. Our students attend classes in our school because we listen to them and teach them what they want to learn, not standardized (and usually outdated) topics from French textbooks. Courses are run in a very friendly, interactive and challenging atmosphere, conducive to learning.
There is no age limit to learning French!
Our classes are opened to anyone aged over 16, with many of our students being over 50 years old. We regularly receive enquiries from retired men and women interested in reviving their old school French from a few decades ago, and we love it! Our lessons are designed to adapt to our students' abilities and pace. Learning a language must be everything but a chore, it has to be a pleasure. Plus there is a real benefit to learning a language for seniors: it keeps the brain active and helps training the memory.
Whether you are a native or fluent French speaker, a student of the language, or an interested non-French speaker, you are welcome to participate in the wide range of activities organized throughout the year.
We hope to welcome you soon at French à la Carte !